Post by Kathy on May 6, 2020 23:00:59 GMT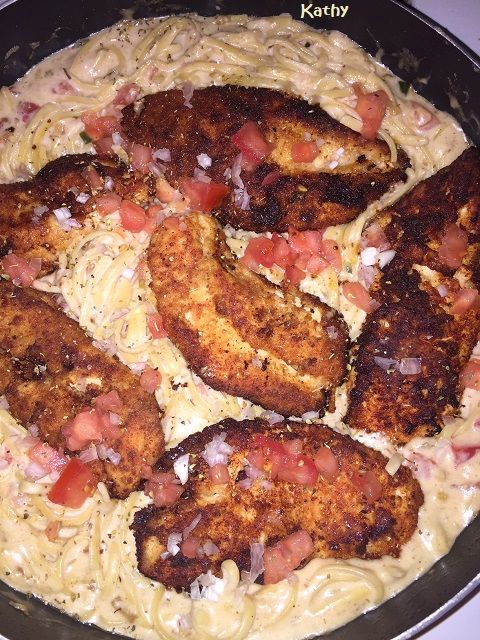 Chicken Vino Bianco
This recipe is supposed to be a Copy Cat from Olive Garden but I looked on their menu and I couldn't find it anywhere! Since I've never eaten this at Olive Garden I don't know if this is from their menu or not but I will say that this was delicious!
The chicken turned out so good! My hubby said that I need to make fried chicken like this all the time! I'm terrible at making fried chicken but this time was magical! Turned out perfect! The noodles which I'll call alfredo were awesome with the tomatoes throughout the entire dish!
Recipe adapted from
The Slow Roasted Italian
8 ounces dried linguine
¾ cup all purpose flour, divided
1 cup bread crumbs
salt & pepper, to taste
cayenne pepper, to taste
4 boneless skinless chicken breasts
¼ cup extra virgin olive oil, I used peanut oil
4 Tablespoons unsalted butter
1 small yellow onion, grated
2 Tablespoons minced garlic
1 medium jalapeno pepper, diced
1 cup heavy cream
1 Tablespoon lemon juice
1 cup white wine, I used chicken broth
½ cup fresh grated Parmesan cheese
2 scallions, diced, divided
2 Roma tomatoes, diced, divided
Bring a large pot of salted water to a boil over high heat. Add linguine. Cook until al dente, about 8-10 minutes. Save 1 cup pasta water. Drain.
In a pie plate or shallow dish, combine ½ cup flour, bread crumbs, salt, pepper and cayenne. Place chicken breasts in the flour mixture. Press into the mixture and flip the chicken over to coat the other side.
Add oil to a large skillet over medium-high heat. Place chicken in the skillet and cook until golden brown on both sides and cooked through, turning once between cooking, about 8-10 minutes. Remove chicken from skillet and set aside.
Add butter, onion, garlic and jalapeno to skillet. Cook until onions are translucent, about 2 minutes. Add ¼ cup remaining flour to pan and whisk to combine. Add cream, lemon juice, wine or chicken broth, salt, pepper, cayenne and parmesan cheese. Add pasta water. Mix well and simmer until smooth, about 5 minutes.
Add cooked pasta, half of scallions and half of tomatoes, stir to combine. Return chicken to skillet and allow it to warm.
Sprinkle remaining scallions and tomatoes on top of chicken.
Serve.