Post by Kathy on May 22, 2020 19:52:40 GMT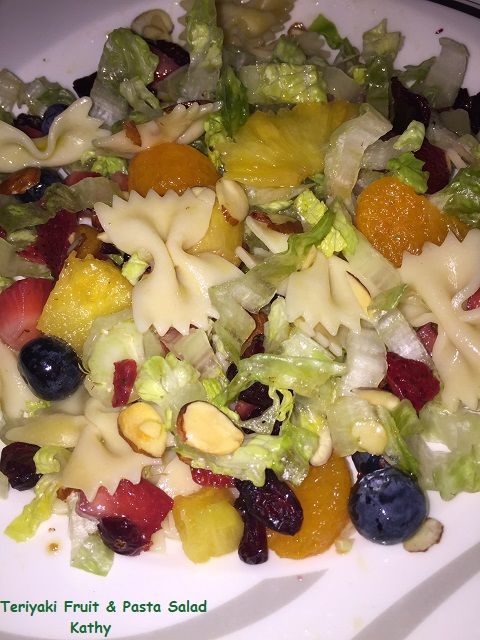 Teriyaki Fruit & Pasta Salad
OMGoodness, what an awesome refreshing salad! We had this for our meal and it was very filling!
I've always shied away from recipes that had lettuce with pasta in it! It just didn't sound good to me but boy was I wrong! It was so good especially the bow tie pasta because I feel like the bow ties are a hearty noodle and held up so well in this salad! And the slivered almonds were also the star of the show along with the pasta! The nice crunch was amazing! All the fruit worked well together and everything kissed with the dressing was love in the tummy!

5 Stars! The Teriyaki Dressing could be used for a lot of things! It made enough that I didn't have to use it all in the salad so I had Shrimp Stir Fry the following night and used it in that and it was delicious! I bet chicken or beef would be great in this salad!
This is my recipe for the salad and the dressing recipe comes from
Crème de la Crumb
8 ounces bow tie pasta, cooked and drained
1½ cups slivered almonds, toasted
12 ounces Romaine Hearts, chopped
2 cups strawberries, diced
2 cups mandarin oranges
1 cup blueberries
1½ cups pineapple chunks
1 cup craisins
Dressing
1/3 cup teriyaki sauce (the thicker the better)
1/3 cup rice wine vinegar or apple cider
½ teaspoon garlic powder
½ teaspoon onion powder
¼ teaspoon salt
¼ teaspoon black pepper
1 tablespoon sugar
½ cup olive oil
Cook pasta according to package instructions, drain and rinse with cold water. Set aside.
In a skillet toast the almonds. Just throw them in the skillet over medium heat and cook around 3 minutes.
While pasta is boiling, prepare the dressing. Combine all dressing ingredients. Mix well. Chill until ready to use.
In a large bowl toss all salad ingredients including pasta but not dressing. Just before serving pour dressing over salad and toss well. There was enough dressing that I saved some for the following nights dinner which was shrimp stir fry so you may not need all of it for salad.
Serve.