Post by Kathy on Apr 16, 2017 19:05:51 GMT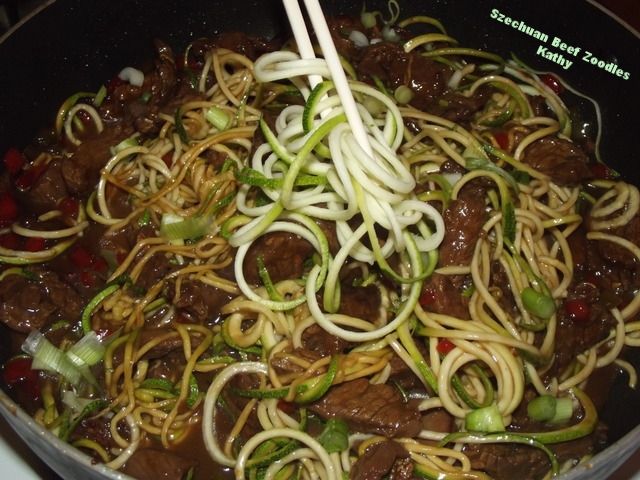 Szechuan Beef Zoodles
A Veggie Twist! Zoodles, the new craze and I love zucchini so I went out and bought a Spiral Slicer because I get the My Magazine that Kroger sends out in the mail and this recipe was right there looking at me on Thursday and on Sunday this was on our plates!

I couldn't wait to make it and it was my first time making Zoodles and it won't be my last! It can't get any better eating something that looks like and has the texture of spaghetti noodles but it's zucchini! Amazing!
The sauce for the beef was spot on! It was an authentic oriental taste and the skirt steak I bought was the perfect cut of beef! It was my first time buying skirt steak and I bought it just because it was thinner than the sirloin steak that the recipe called for and boy am I glad I bought the skirt steak! I will stick to it for my Asian beef dishes from now on!
I bought more than 1 pound of beef so I doubled the recipe and posting it that way
2 Tablespoons sesame oil
2 Tablespoons rice wine vinegar
4 cloves garlic, minced
2 teaspoons grated fresh ginger
1 teaspoon red pepper flakes
4 teaspoons corn starch
½ cup soy sauce, divided
1½ pounds sirloin steak, sliced thin like any Chinese dish would be and against the grain (I used skirt steak)
3 Tablespoons oyster sauce
5 teaspoons brown sugar
3 medium zucchini
1 Tablespoon peanut oil or canola
1 red bell pepper, diced
1 green bell pepper, diced
3 individual stalks green onion, diced
In a medium bowl, combine sesame oil, vinegar, garlic, ginger, red pepper flakes, corn starch and 2 Tablespoons soy sauce. Add sliced steak. Toss to coat and set aside.
In a small bowl, combine oyster sauce, brown sugar and remaining soy sauce.
Cut ends off of zucchini. With your mandolin, julienne peeler or spiral slicer, cut the zucchini into long noodles.
Heat peanut or canola oil in a large skillet or wok over medium high heat. Lift steak from marinade and stir fry until brown, about 5 minutes. Add diced peppers and stir fry 3-4 minutes more.
Add remaining marinade if there is any left and oyster sauce mixture. Cook until beef and vegetables are coated and beef reaches a safe temperature of 145° and sauce is slightly thickened, 3-4 minutes. Throw in diced green onions.
Turn off heat and toss zucchini noodles. We like a bit of a crunch to our zucchini when it is Zoodles so we didn't leave it in sauce long. I plated it right away and left some Zoodles out of skillet and just tossed it when we wanted a second helping.